Preliminary Top 12 Fantasy Player Rankings for 2019 (Preview)
Michael Nazarek - 2/6/2019
Fantasy Index Ask the Experts - What is your top 12 fantasy player rankings for 2019? With free agency approaching, things could change a lot by the time I release my first comprehensive rankings later this spring. Below, I'm offering you my top 12 in both PPR and Non-PPR leagues for 2019 as of early-February. Enjoy!
Top 12 for PPR (Points-Per-Reception) Leagues:
1) RB Saquon Barkley, NYG - He's healthy and caught a whopping 91 passes his rookie season. He totaled 2000+ yards with 15 scores too! He passes Gurley due to Gurley's knee issue.
2) RB Christian McCaffrey, CAR - He totaled nearly 2000 yards and scored 13 times in 2018! Best of all, he caught an amazing 107 passes! That is gold in PPR scoring systems!
3) RB Ezekiel Elliott, DAL - The best...
This is a Premium FF Mastermind Article.
You must be logged in to view it.
Back to top of page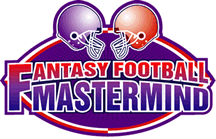 The Definitive Fantasy Information Service
Mastermind Moment
Week #12: The Inside Slant <--- Check It Out FREE!
Wednesday, November 20th, 2019
Wondering why FFMastermind.com has been online for 24 YEARS? Some of the proof is in the premium INSIDE SLANT feature part of the In-Season Weekly Newsletter. Check out
Read the Full Mastermind Moment