Week #14: Acquiring & Trading Targets (Preview)
Michael Nazarek - 12/4/2018
In this feature, I'll do my best to offer 1-3 players (QB, RB, WR, & perhaps a TE) to target to acquire via trade as well as 1-3 players to trade away…
-- Look to Acquire --
QB Aaron Rodgers, GB - No change here. Perhaps his owner is out of the playoff hunt in your league. If that is the case and you can still makes trades, then look to acquire him. It's a new time for the Packers with an interim head coach, and he still has beatable match-ups in ATL this week, followed by games @CHI and @NYJ in week #16.
RB David Johnson, ARZ - He just got two TDs vultured, but that is unlikely to happen again, and his schedule in the final weeks is very favorable. Perhaps you can get him relatively cheap...
This is a Premium FF Mastermind Article.
You must be logged in to view it.
Back to top of page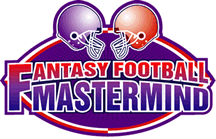 The Definitive Fantasy Information Service
Mastermind Moment
2019 Madness NFL Rookie Draft Reference Guide
Monday, April 15th, 2019
Premium Pro Bowl and Super Bowl Package Subscribers take note. The time has come. The 2019 Madness NFL Rookie Draft Reference Guide has been released for your viewing pleasure. This
Read the Full Mastermind Moment