Week #13: Final Fantasy Thoughts (Preview)
Michael Nazarek - 11/30/2018
CHIEFS RELEASE KAREEM HUNT!
Kansas City Chiefs RB Kareem Hunt is seen shoving and kicking a woman after a video of a February incident was released by TMZ on Friday. The Chiefs excused Hunt from practice and sent him home from the facility, pending further action, after the video's release, sources said. In the video of the incident, which had been previously reported by multiple outlets, Hunt and the woman trade words in a hallway and are separated by several people on multiple occasions. Hunt pushes the woman, who responds by hitting him in the face. Two men escort Hunt down a hallway before he charges out, colliding with a man who then knocks the woman over. Hunt also kicks the woman in the leg. Police were called to the scene, a Cleveland hotel where Hunt had an apartment, but no arrests were...
This is a Premium FF Mastermind Article.
You must be logged in to view it.
Back to top of page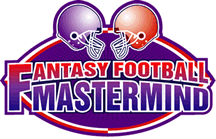 The Definitive Fantasy Information Service
Mastermind Moment
2019 Madness NFL Rookie Draft Reference Guide
Monday, April 15th, 2019
Premium Pro Bowl and Super Bowl Package Subscribers take note. The time has come. The 2019 Madness NFL Rookie Draft Reference Guide has been released for your viewing pleasure. This
Read the Full Mastermind Moment