Week #9: Final Fantasy Thoughts (Preview)
Michael Nazarek - 11/2/2018
There are some big updates on THREE important tailbacks on Friday for fantasy football...
Los Angeles Chargers HC Anthony Lynn said RB Melvin Gordon (hamstring - questionable) was able to do more in practice Friday. Asked if Gordon will play on Sunday, here's what Lynn had to say: "We'll see. I don't want to speak for Melvin, but if he 's feeling well I know he wants to play." We believe Gordon will play, but he does play in a late game, so be sure to have an alternative ready to sub in if he sits.
New England Patriots RB Sony Michel (knee - questionable) was limited in practice all week, but when asked if he will play Sunday night, he said if it was up to him, he would play. In other words, he wants to play...
This is a Premium FF Mastermind Article.
You must be logged in to view it.
Back to top of page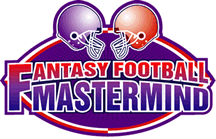 The Definitive Fantasy Information Service