Week #6: Target & Red Zone Statictics Table (Preview)
10/9/2018
Click HERE to access our specialized NFL Targets and Red Zone Targets Tables. Be aware, the table is large, so it takes a while to fully load. Thank you for your patience. The statistics for Week #5 are FINAL....
This is a Premium FF Mastermind Article.
You must be logged in to view it.
Back to top of page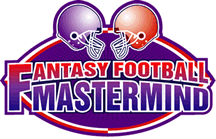 The Definitive Fantasy Information Service
Mastermind Moment
2019 Madness NFL Rookie Draft Reference Guide
Monday, April 15th, 2019
Premium Pro Bowl and Super Bowl Package Subscribers take note. The time has come. The 2019 Madness NFL Rookie Draft Reference Guide has been released for your viewing pleasure. This
Read the Full Mastermind Moment