Week #5: Final Fantasy Thoughts (Preview)
Michael Nazarek - 10/5/2018
The Green Bay Packers have some major injury issues at wide receiver this week. WR Randall Cobb (hamstring) is OUT. WR Davante Adams (calf) and WR Geromino Allison (concussion) are questionable to play this week. Adams was limited in practice on Friday, while Allison did not practice. Adams (calf) will practice on Saturday, and there's hope for Allison (concussion), so there remains a chance that both Adams and Allison will play. Hey! At least QB Aaron Rodgers (knee) has been taken off the injury report altogether! If you own Adams or Allison, it's a good idea to immediately pick up rookie WR Marquez Valdes-Scantling, whom will play the slot to fill the void left by Cobb. He could be the team's #1 on Sunday at Detroit if Adams, Allison, and Cobb all sit.
Courtesy of ESPN... of the three Green...
This is a Premium FF Mastermind Article.
You must be logged in to view it.
Back to top of page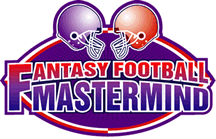 The Definitive Fantasy Information Service
Mastermind Moment
2019 Madness NFL Rookie Draft Reference Guide
Monday, April 15th, 2019
Premium Pro Bowl and Super Bowl Package Subscribers take note. The time has come. The 2019 Madness NFL Rookie Draft Reference Guide has been released for your viewing pleasure. This
Read the Full Mastermind Moment