2018 The Huddle Classic 12 Experts League (Preview)
Michael Nazarek - 8/8/2018 - COMPLETED
The Huddle Classic 12 Experts League Draft was held LIVE online on Tuesday night (Aug. 7), at 8 PM Eastern. This league has been in existence since 2000, of which I have won it three (2000, 2014, & 2015) times and finished runner-up three times (2001, 2005 & 2008). I also finished with the best record and most points in 2009, only to lose in the semi-finals in an upset. The SOFA Classic Experts League is a performance PPR league with 12 teams. Free agents are awarded via blind bid. I drafted out of the #3 slot in a serpentine draft going 18 rounds.
The Huddle Classic Draft URL -
http://www71.myfantasyleague.com/2018/options?L=28667&O=113&DISPLAY=LEAGUE
FFMastermind.com Draft:
1.03 - RB Ezekiel Elliott, DAL
This is a Premium FF Mastermind Article.
You must be logged in to view it.
Back to top of page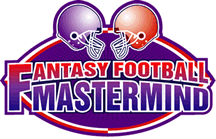 The Definitive Fantasy Information Service
Mastermind Moment
2019 Madness NFL Rookie Draft Reference Guide
Monday, April 15th, 2019
Premium Pro Bowl and Super Bowl Package Subscribers take note. The time has come. The 2019 Madness NFL Rookie Draft Reference Guide has been released for your viewing pleasure. This
Read the Full Mastermind Moment