2018 PSDG: Dynasty Draft Strategies (Preview)
Brent Lathrop - 6/29/2018
If you are new to the keeper/dynasty scene, you are in for a treat. There's much more strategy involved in these leagues that a redraft. You are far more likely to strike it rich one season in a redraft and win the championship than you would in a dynasty league. You get to build your roster not only for that upcoming or current season, but for many seasons – depending on how your league works. There's some added satisfaction in being able to craft an entire roster of players as opposed to starting from scratch each year. String together some successful seasons and it shows you have a knack for this fantasy thing, as there's less luck when your able to maintain success over multiple seasons or decades even. Having been involved in keeper/dynasty leagues for seventeen years I think I have a few tips that can help you...
This is a Premium FF Mastermind Article.
You must be logged in to view it.
Back to top of page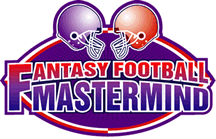 The Definitive Fantasy Information Service
Mastermind Moment
2019 Madness NFL Rookie Draft Reference Guide
Monday, April 15th, 2019
Premium Pro Bowl and Super Bowl Package Subscribers take note. The time has come. The 2019 Madness NFL Rookie Draft Reference Guide has been released for your viewing pleasure. This
Read the Full Mastermind Moment