2018 PSDG: The Tricks of the Fantasy Football Trade (Preview)
Chris Rito - 6/29/2018
"Draft Day" is often the highlight of the fantasy football season. While the draft atmosphere is the best, the place where champions are made often is in hammering out a big deal after that day. After many years of playing this game, I have accumulated a series of tips – a "philosophy of trading," if you will – that I think can help you initiate the trade, wade through the details and broker a productive deal... possibly taking you from the realm of the "also-ran" to the level of "champion." And if nothing else, I think that following this seemingly simple list of suggestions can make your fantasy football season a lot more fun. And isn't that the point? As I said, many of these suggestions seem simple, but it is often the attention to the simple things that can make the biggest...
This is a Premium FF Mastermind Article.
You must be logged in to view it.
Back to top of page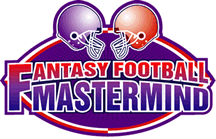 The Definitive Fantasy Information Service
Mastermind Moment
2019 Madness NFL Rookie Draft Reference Guide
Monday, April 15th, 2019
Premium Pro Bowl and Super Bowl Package Subscribers take note. The time has come. The 2019 Madness NFL Rookie Draft Reference Guide has been released for your viewing pleasure. This
Read the Full Mastermind Moment