Seahawks Sign Brandon Marshall (Preview)
Michael Nazarek - 5/29/2018
-- Seahawks Sign Brandon Marshall --
Tue May 29, 2018 --from FFMastermind.com
NJ.com reports the Seattle Seahawks have signed veteran free-agent WR Brandon Marshall. ESPN's Adam Schefter adds the deal is for one year. It has a maximum value of $2 million if incentives are hit, per source.
Mike's View: Don't get me wrong, I like WR Brandon Marshall. But this is 2018, not 2015. Anyone expecting 100+ catches is crazy at this point. The guy is 34 years old and he's coming off a serious ankle injury. That said, he is 6'5" and the Seahawks are in need of a tall replacement for TE Jimmy Graham. This is where Seattle hopes that Marshall can fill a void. Remember, WR Doug Baldwin and WR Tyler Lockett are locked in as the 1-2 WRs and the team signed...
This is a Premium FF Mastermind Article.
You must be logged in to view it.
Back to top of page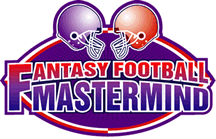 The Definitive Fantasy Information Service
Mastermind Moment
2019 Madness NFL Rookie Draft Reference Guide
Monday, April 15th, 2019
Premium Pro Bowl and Super Bowl Package Subscribers take note. The time has come. The 2019 Madness NFL Rookie Draft Reference Guide has been released for your viewing pleasure. This
Read the Full Mastermind Moment