Free Agency 2018 Review: 15 Players to Watch (Preview)
Michael Nazarek - 3/26/2018
We are 12 days into free agency in 2018, so this is a good time to offer my first thoughts on the biggest moves made over the past two weeks. In year's past, I've talked more about the big moves and how they relate to fantasy football, but I want to do things a bit differently this year. Below, you'll see I have offered three lists of five players to watch over the coming months. The first five listed are players whom I believe to be the biggest winners with regard to where they find themselves 12 days after free agency (including trades) began. The next five are my biggest losers, and the final five are the wildcards, players whom could be winners or losers depending on how things shake out over the summer and into the season. Time's a wastin', so let's get right to the fantasy analysis...
This is a Premium FF Mastermind Article.
You must be logged in to view it.
Back to top of page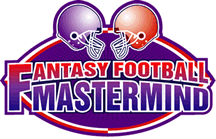 The Definitive Fantasy Information Service
Mastermind Moment
2019 Madness NFL Rookie Draft Reference Guide
Monday, April 15th, 2019
Premium Pro Bowl and Super Bowl Package Subscribers take note. The time has come. The 2019 Madness NFL Rookie Draft Reference Guide has been released for your viewing pleasure. This
Read the Full Mastermind Moment