2018 February Rookie Player Rankings (Preview)
John Holler - 2/23/2018
As it comes to the pre-Combine rankings, we're looking at the players who have the most steam heading into Indianapolis. After that happens and the workout season begins – as well as holes being filled by free agency – we will focus more on the teams looking for players to gauge the value of the top guys.
Until then, these are how we stack up the players by position heading into the most important week of their football lives.
QUARTERBACK
1. Sam Darnold, USC
2. Josh Rosen, UCLA
3. Josh Allen, Wyoming
4. Baker Mayfield, Oklahoma
5. Lamar Jackson, Louisville
6. Mason Rudolph, Oklahoma State
7. Luke Falk, Washington State
8. Mike White, Western Kentucky
9. Riley Ferguson, Memphis
10. Kurt Benkert, Virginia
OVERVIEW: A case could be made that five of these guys will go on the first round. Allen...
This is a Premium FF Mastermind Article.
You must be logged in to view it.
Back to top of page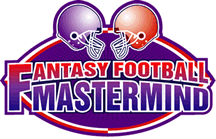 The Definitive Fantasy Information Service
Mastermind Moment
2019 Madness NFL Rookie Draft Reference Guide
Monday, April 15th, 2019
Premium Pro Bowl and Super Bowl Package Subscribers take note. The time has come. The 2019 Madness NFL Rookie Draft Reference Guide has been released for your viewing pleasure. This
Read the Full Mastermind Moment