2017 NFL Playoff Fantasy Rankings Report (Preview)
John Holler & Michael Nazarek - 1/1/2018
When it comes to drafting players for postseason fantasy games, it is much different than the standard regular season draft/auction format. You have to make projections as to how many games a team is going to play. In a one-and-done format, a player like Devonta Freeman would be ranked much higher if there was a firm belief that he will play more than one game.
But the reality is that most teams are going to play just one or two games as the numbers dwindle down to the Super Bowl twosome that will play for the Lombardi Trophy.
For the purposes of our rankings, our projections of the number of games teams will play is as follows:
3 – New England
2-3 – Minnesota, Philadelphia, New Orleans
2 – Pittsburgh, Kansas City, Jacksonville
1-2 – L.A. Rams, Carolina, Atlanta
1 – Tennessee...
This is a Premium FF Mastermind Article.
You must be logged in to view it.
Back to top of page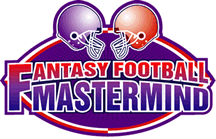 The Definitive Fantasy Information Service
Mastermind Moment
Free 2018 Pre-Season Draft Guide Preview
Friday, June 29th, 2018
Our patrons always ask for us to release a preview of our annual summer fantasy football blockbuster Pre-Season Draft Guide. Well, YOU asked for it, YOU got it!
Read the Full Mastermind Moment