Week #17: Final Fantasy Thoughts (Preview)
Michael Nazarek - 12/29/2017
FFMastermind.com Weekly Newsletter
FINAL FANTASY THOUGHTS
Weekly Newsletter: Volume XXII, Issue 17
December 29, 2017
________________________________________________________________________
Our 22nd fantasy season on-line has come and gone. It is my sincerest hope that we were able to help fantasy owners in their quest for a Fantasy Championship. It's what we do around here, so if you have a great story to tell, by all means, please don't hesitate to e-mail me HERE. We'd love to hear about your season and would very much like to post it as a testimonial for the site. The FFMastermind.com team in 2017 included… John Holler, John Cooney, Chris Rito, Steve Yerger, Brent Lathrop, and Dr. Gilbert Brovar. I want to express my sincerest thank you to these people as well as the rest of the staff writers, countless scouting support FF...
This is a Premium FF Mastermind Article.
You must be logged in to view it.
Back to top of page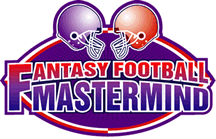 The Definitive Fantasy Information Service
Mastermind Moment
Week #4: The Market <--- Check It Out FREE!
Saturday, October 6th, 2018
Wondering why FFMastermind.com has been online for 23 YEARS? The proof is in the premium MARKET feature part of the In-Season Weekly Newsletter. Check out Week #4's Market
Read the Full Mastermind Moment