Week #13: Final Fantasy Thoughts (Preview)
Michael Nazarek - 12/1/2017
FFMastermind.com Weekly Newsletter
FINAL FANTASY THOUGHTS
Weekly Newsletter: Volume XXII, Issue 13
December 1, 2017
________________________________________________________________________
Carolina Panthers RB Christian McCaffrey (shoulder) and TE Greg Olsen (foot) are questionable to play this week. According to HC Ron Rivera, a decision on the playing status of Olsen and McCaffrey will likely be made on Saturday. McCaffrey looks much more likely to play than Olsen does, since he practiced at least limited each day this week, while Olsen did not practice even once.
We'll update you on the very latest regarding all injuries throughout the weekend in Premium Injury Quick Bits, as news breaks.
2018 Premium Renewal Order Form
A Few Thoughts on Injury Situations…
Tampa Bay Buccaneers WR...
This is a Premium FF Mastermind Article.
You must be logged in to view it.
Back to top of page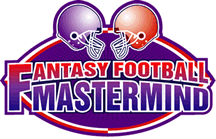 The Definitive Fantasy Information Service
Mastermind Moment
Free 2018 Pre-Season Draft Guide Preview
Friday, June 29th, 2018
Our patrons always ask for us to release a preview of our annual summer fantasy football blockbuster Pre-Season Draft Guide. Well, YOU asked for it, YOU got it!
Read the Full Mastermind Moment