Week #10: Final Fantasy Thoughts (Preview)
Michael Nazarek - 11/10/2017
FFMastermind.com Weekly Newsletter
FINAL FANTASY THOUGHTS
Weekly Newsletter: Volume XXII, Issue 10
November 10, 2017
________________________________________________________________________
Good news and bad news out of Washington. Redskins WR Jamison Crowder (hamstring) says he will play Sunday after missing last week. Crowder was limited in practice on both Thursday and Friday, but he did work in the one-on-one sessions and was confident in his availability for the Vikings game. His return to the slot would be a big help against a top defense. Meanwhile, Redskins TE Jordan Reed (hamstring) says he isn't sure yet if he'll be able to play Sunday. Reed was limited in practice on Thursday and said he felt good when he ran. Reed was also able to participate in one-on-ones and did not look slowed by the injury, making a touchdown grab in a red-zone drill...
This is a Premium FF Mastermind Article.
You must be logged in to view it.
Back to top of page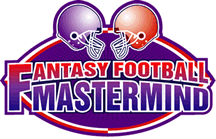 The Definitive Fantasy Information Service
Mastermind Moment
2018 Madness NFL Rookie Draft Reference Guide
Monday, April 16th, 2018
Premium Pro Bowl and Super Bowl Package Subscribers take note. The time has come. The 2018 Madness NFL Rookie Draft Reference Guide has been released for your viewing pleasure. This
Read the Full Mastermind Moment