Week #6: The IDP Blitz (Preview)
Steve Yerger - 10/10/2017
Throughout the season, we will be looking at some free agents that you should be adding to your roster in IDP leagues. This column will focus on players who probably were not drafted in your leagues back in the summer, and may still be sitting out on your waiver wire. Some of the players listed are rookies who have either won starting jobs or are playing a significant amount of time early on in the season, or players who won the training camp battle at certain key productive positions. Hopefully these players listed below are still available for you to claim this week. 
 
DT
David Irving, Dallas – Irving saw his first action in week 5, and was very impressive, with a 16 point effort. He may be easy to get this week as well, as the Cowboys are heading into their bye week.
Benny...
This is a Premium FF Mastermind Article.
You must be logged in to view it.
Back to top of page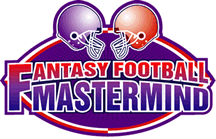 The Definitive Fantasy Information Service
Mastermind Moment
2018 Madness NFL Rookie Draft Reference Guide
Monday, April 16th, 2018
Premium Pro Bowl and Super Bowl Package Subscribers take note. The time has come. The 2018 Madness NFL Rookie Draft Reference Guide has been released for your viewing pleasure. This
Read the Full Mastermind Moment