Week #2: The Market (Preview)
Mchael Nazarek 9/12/2017
Let's see if you've heard this before... The first week of the 2017 NFL season was inconsistent. It's always that way. What have we learned? It's only ONE WEEK. Patience is the key to winning. Of course, if someone in your league wants to dump under-performing RB LeVeon Bell or WR Julio Jones in your lap at a bargain price, snatch him up now! Those owners are panicking for nothing and are well on their way to a losing season. Obviously, they are not reading this newsletter, so don't hesitate to take advantage! Now, let's get into this week's fantasy "Market"...
THE QUARTERBACKS
-- Pick Up & Hold Alex Smith... Seriously --
Kansas City Chiefs QB Alex Smith had a big game against the Patriots last Thursday night, but it was just a fluke...
This is a Premium FF Mastermind Article.
You must be logged in to view it.
Back to top of page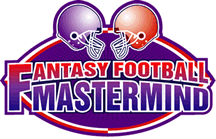 The Definitive Fantasy Information Service
Mastermind Moment
NFL Game Matchup Analysis: The Real Work Begins!
Saturday, September 9th, 2017
OK, the big day has come and gone; your draft is over. You assembled an impressive roster thanks to a lot of time, energy and research dedicated to that task.
Read the Full Mastermind Moment