Week #2: Early Week Picks to Click/Flick (Preview)
Michael Nazarek - 9/11/2017
This section expresses my gut feeling with regard to which NFL players I feel will have good days and those that will have bad ones. I remind everyone to take these picks with a grain of salt. They are certainly NOT meant to override our weekly rankings! They are based upon past performances as well as this week's match-up. Last week, we had some good results with QB Carson Wentz, RB Todd Gurley, WR Larry Fitzgerald, and TE Delanie Walker all coming up roses as clicks. Unfortunately, there were also a few duds like WR Kelvin Benjamin and TE Jimmy Graham under-performing. Remember, scheduling isn't everything, but playing the odds will eventually work in your favor. It just may take a week or two for it to pay off…
Look for these Picks to Click!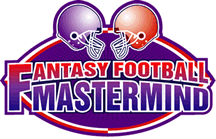 The Definitive Fantasy Information Service
Mastermind Moment
NFL Game Matchup Analysis: The Real Work Begins!
Saturday, September 9th, 2017
OK, the big day has come and gone; your draft is over. You assembled an impressive roster thanks to a lot of time, energy and research dedicated to that task.
Read the Full Mastermind Moment