2017 PSDG: NFL Training Camp Capsules - AFC (Preview)
John Holler & Michael Nazarek - 8/17/2017
THE AFC
AFC EAST 2017: THE RICH GET RICHER, THE WEAK GET WEAKER
It's hard to imagine that there could be a wider disparity between teams in one division as there is in the AFC East. The Patriots reloaded by adding Brandin Cooks, Mike Gillislee, Dwayne Allen and Rex Burkhead to a team that won the Super Bowl.
Meanwhile, the other teams in the division all look to have taken a backward step. The Bills traded their best receiver (Sammy Watkins), Miami lost starting quarterback Ryan Tannehill for the season and had to make an emergency signing to get Jay Cutler out of retirement and the Jets have gutted their offense, releasing Brandon Marshall and Eric Decker and losing Quincy Enunwa for the season. The Patriots may have the division wrapped up by Thanksgiving, but, aside from...
This is a Premium FF Mastermind Article.
You must be logged in to view it.
Back to top of page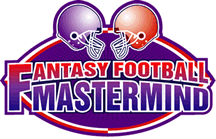 The Definitive Fantasy Information Service