2017 PSDG: Busted Wedge - Kick and Punt Return Specialists For Points (Preview)
John Cooney - 7/27/2017
The fantasy leagues of today have taken to include the statistical outcomes of special teams action, covering not just the full units but the individual bomb-squad return demons themselves. Creative fantasy football commissioners explore new ways to bring added value to players, boosting the potential total points scored by their fantasy franchises each week and adding another avenue of excitement to fantasy lineups. A third of the specific units on a football team is special teams. The athletes that perform in these kamikaze groups are an exciting, wild and reckless breed, directing their versions of controlled chaos at the enemy, seeking the big hit or turning the tables of a contest with an improvised, exciting return of a kickoff or punt for a tide-changing TD. Each season quite a few fantasy football games are decided by the results of special teams play. Fantasy leagues that have expanded their scoring...
This is a Premium FF Mastermind Article.
You must be logged in to view it.
Back to top of page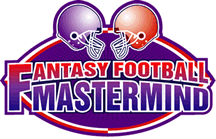 The Definitive Fantasy Information Service