2017 PDF Fantasy Rankings Cheatsheets (Preview)
Version I - 6/28/2017
Weekly Updated Pre-Season Fantasy Player Rankings
July - September (FREE with a Pre-Season Draft Guide purchase!)
To download the current PDF Cheatsheets for 2017 please scan down to the bottom of this file!
Click HERE for a Sample of these cheatsheets from 2010.
Monthly/Weekly Updates
July 28, 2017.
August 4, 2017.
August 11, 2017.
August 18, 2017.
August 21, 2017.
August 25, 2017.
August 28, 2017.
August 30, 2017.
September 1, 2017.
September 3, 2017.
Available in Formats via Premium Online Account
Online (PDF) Format.
Tiered Cheatsheets (Updated Weekly from July onward)
All-in-One Ranking Sheets
Performance Non-PPR Scoring Leagues
Performance PPR Scoring Leagues
Basic Scoring Leagues
All are TIER...
This is a Premium FF Mastermind Article.
You must be logged in to view it.
Back to top of page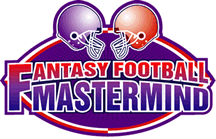 The Definitive Fantasy Information Service
Mastermind Moment
Free 2017 Pre-Season Draft Guide Preview
Wednesday, July 5th, 2017
Our patrons always ask for us to release a preview of our annual summer fantasy football blockbuster Pre-Season Draft Guide. Well, YOU asked for it, YOU got it!
Read the Full Mastermind Moment