2017 Rookie Draft Reference Guide: The QBs (Preview)
John Holler - 4/20/2017
With the draft upon us, there are going to be a slew of young college talent coming into the league. While some players will get drafted higher than we have them ranked, these are the players we see as the potential impact types –- the clear blue-chip players, those who have upside potential, those who will likely get drafted with a chance to become starters and the long shots looking to live out their football dreams.
These are the offensive players whose names you will hear getting called on draft weekend.
QUARTERBACK
POSITION ANALYSIS: A relatively persuasive argument can made that there isn't a quarterback in this year's draft class who is worthy of first-round selection, but, because of the constant need for quarterbacks, there are two likely candidates to come off the board in the first round...
This is a Premium FF Mastermind Article.
You must be logged in to view it.
Back to top of page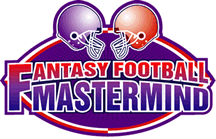 The Definitive Fantasy Information Service
Mastermind Moment
NFL Game Matchup Analysis: The Real Work Begins!
Saturday, September 9th, 2017
OK, the big day has come and gone; your draft is over. You assembled an impressive roster thanks to a lot of time, energy and research dedicated to that task.
Read the Full Mastermind Moment