2017 February Rookie Player Rankings (Preview)
John Holler - 2/23/2017
With the days counting down to the 2017 Combine in Indianapolis, stock values on players are going to rise and fall. Two, three or even four years as a starter in college can be erased by a poor showing at the Combine. On the flip side, a player with a limited college career or from a small school can vault himself from the second or third round into the first round.
As we present our pre-Combine rankings, we do so basing our ratings on what those players have shown on the field - their athleticism and their production. For example, Deshaun Watson was a dominating college player, but, between now and the draft, scouts and draft analysts are going to pick his game apart. These are the players to watch - at least those who work out in Indianapolis - because they're all going to be draft...
This is a Premium FF Mastermind Article.
You must be logged in to view it.
Back to top of page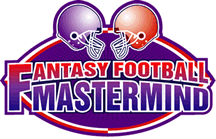 The Definitive Fantasy Information Service
Mastermind Moment
NFL Game Matchup Analysis: The Real Work Begins!
Saturday, September 9th, 2017
OK, the big day has come and gone; your draft is over. You assembled an impressive roster thanks to a lot of time, energy and research dedicated to that task.
Read the Full Mastermind Moment