2017 Mock Rookie Draft - Version I (Preview)
John Holler - 2/15/2017
The 2017 NFL draft is still more than two months away, but players are already looking to elevate their draft stock. It's funny how the Combine works. Two, three or four years as a college starter can be put on the back burner with a great or a horrible showing at the Combine.
At this point, we're looking at the combination of talent and need for teams. In March, as free agency creates and/or closes needs for teams, players will assuredly chance positions as stocks rise and fall. But, for now, here's our first (but far from out last) look into the crystal ball as to what teams will select the stars of tomorrow on the opening night of the draft.
Note: The Los Angeles Rams don't have a first-round pick (No. 5) due to the trade to draft Jared Goff last season and Minnesota doesn't have a...
This is a Premium FF Mastermind Article.
You must be logged in to view it.
Back to top of page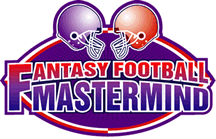 The Definitive Fantasy Information Service
Mastermind Moment
Week #10: Players to Acquire & Players to Trade
Saturday, November 11th, 2017
FFMastermind.com's Michael Nazarek Tells You Who You Should Acquire & Who You Should Trade in Your Fantasy League This Week... [Acquiring & Trading Targets] <=== FREE VIEWING
Read the Full Mastermind Moment